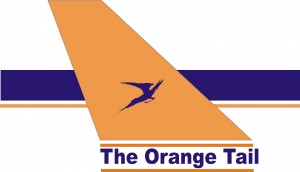 Welcome to the "ORANGE TAIL"
A website f
or all employees who worked for SAL-SAA 
during the period of 1934 to the late 1990′s when SAA had those distinctive "orange tails". New members can join by clicking on the
"
Please

 
create an account
 

to get started
" button on the right >>


.

       (Registration is FREE + you will receive our quarterly newsletter)
———————————————————-
 .

REUNION – 3 December 2016
Rand Airport Germiston – from 12:00 till 20:00
.
STEP 1:

  To RSVP you have to first Log In.
.
(to be able to login, you need to previously have registered on this website, so if you are not yet registered here, first click on the 

"

Please

 

create an account

 

to get started"

.

  To register is FREE.
NOTE: It may take 24 hrs for our website admin to verify your registration. Thereafter you can log in and get access to the rsvp section.
STEP 2:

  After login, you will see the rsvp block on the right > >
Simply complete the 4 bits of information and you are done!

———————————————————–  
.
Note that this website is no longer updated. The Orange Tail Website moved to Facebook.
This website is still used as our database, and it sends out our quarterly newsletter to everybody registered here.


.




Below is where we moved to . . . 
-
Click any of the Links to go to the Associated Page
#01 – In Memoriam >>HERE<<
#02 – Member News >>HERE<<
#03 – Archived News >>HERE<<
#04 – Orange Tail Memorabilia >>HERE<<
#05 – Orange Tail Social Events >>HERE<<
#06 – SAA In The News >>HERE<<
#07 – Airport News >>HERE<<
#08 – Orange Tail Aircraft Pics >>HERE<<
#09 – My SAA Memories Pics >>HERE<<
#10 – Today In Aviation History >>HERE<<
#11 – Aviation Videos >>HERE<<
#12 – General Aviation News >>HERE<<
#13 – SAA Wall Of Remembrance >>HERE<<
#14 – Orange Tail Pension News >>HERE<<
#15 – Lost & Found @ SAA >>HERE<<
#16 – SAA Museum Happenings >>HERE<<
#17 – SAA Ground Hosties Unite! >>HERE<<
#18 – SA Lagdiens >>HERE<<
#19 – (H)airline Cracks >>HERE<<
#20 – Tribute To Dina Taute >>HERE<<
#21- Sharp End Stuff >>HERE<<
#22 – Ilha Do Sal Memories >>HERE<<
#23 – Rio de Janeiro Memories >>HERE<<
#24 – Lisbon Memories >>HERE<<
#25 – London Memories >>HERE<<
#26 – Las Palmas Memories >>HERE<<
#27 – Big Apple Memories >>HERE<<
#28 – Tribute To Neil Haasbroek >>HERE<<
#32 – Galley Vanting >>HERE<<
.
The Aim of the Orange Tail Association 
.


* To keep our members informed  
.
* To help keep friendships and memories alive
.
.

  * To assist through our Pensioners Support Fund
2016 Membership 

PAYMENTS: If you would like to make your 2016 Membership payment, or make a donation, you can view our banking details >>HERE<<
NEW MEMBERS:   Welcome! You do not have to contribute to help support our pensioners in need, or to the running cost of the organisation for the first calendar year (or part thereof). The Orange Tail Association will pay your membership for you. This will give you an opportunity to evaluate the Association. We obviously have expenses such as Office Admin Staff, Website hosting and development, Internet, Telephone, SMS, Stationery, Postage, flowers at funerals etc to pay, so any assistance from your side will be very welcome.
CARING FOR OUR PENSIONERS:  Our biggest expense is caring for our needy pensioners. You may know that for many years they have only been getting a 2% increase in pension. This actually means that compared to the 9% inflation in Food & Medical, they are each year getting 7% less than the previous year.
We feed around 30 pensioners at any given time. We provide medication, transport to hospitals, clothing, etc. to many. Over the past 2 years we bought 31 gas heaters to provide warmth during winter to ex SAA pensioners, some who live in outbuildings and even in shacks. This winter we have to fill the gasbottles again. This year we had to buy 2 power generators for pensioners dependant on oxygen machines, to keep them alive during loadshedding. All these expenses have completely drained our cash reserves.
AFFORDABILITY:     As always we will never ever deny anybody access to the Orange Tail website. If you can not afford the R10 per month membership, please pay a nominal amount – even R1 or R2 per month. We will pay the balance for you. Many thanks to those who monthly contribute to our Pensioners Support Fund – they get free membership. Let's all work together unselfishly to keep the Orange Tail association alive.
……………………………………………………………………………………………………………………………………………………………………………